Saturday, October 31, 2009
I purchased both of the Fan Club Kits that were available through Creation Entertainment. Many of the items from both kits have been displayed in earlier posts.

Posted by

andalone
at 10:28 PM
No comments:


Thursday, October 29, 2009
I mentioned in an earlier post that I wished Bif Bang Pow! would release more LOST Bobbleheads. Wish GRANTED! I preordered the Daniel Faraday and Dr. Mark Halliwax bobbleheads from Entertainment Earth today. They are scheduled for January release.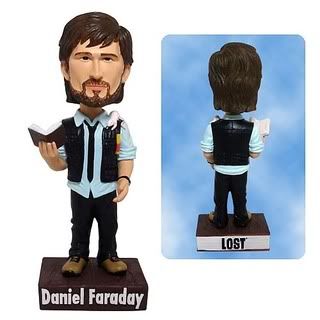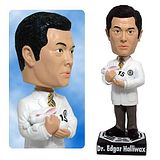 Posted by

andalone
at 9:25 PM
No comments:


Posted by

andalone
at 9:10 PM
No comments:


No, I am not referring to the 88-Keys recording made for The LOST Underground Art Project. But you can listen to it here:
Baggage Claim by 88-keys
There are a number of LOST travel bags in my collection.
..a travel bag given away at the Season One DVD Release party, complete with a promo pin:
and the Official Oceanic flight bag:
a LOST messenger bag:
a Dharma Hydra Station tote:
and an awesome Ogio backpack, a gift from TPTB to the LOST Season 3 crew members. I obtained this directly from a crew member. (notice the Dharma patch with a 3 replacing the S in LOST)
Posted by

andalone
at 8:52 PM
No comments:


These are three of the LOST Tshirts in my wardrobe. I wear them on a regular basis: The Numbers, The Hanso Foundation & Geronimo Jackson.
Posted by

andalone
at 4:35 PM
No comments:


This was a 5x7 magnet released by abc in the Spring of 2008 (following Writer's Guild Strike) to promote it's prime-time lineup. Lost aired on Thursday nights for Season 4.
Posted by

andalone
at 3:58 PM
No comments:


I have already shared photos of my Apollo and LU caps. Here is a earlier LOST cap with The Numbers embroidered on the back...
...and a LOST bucket hat. The bucket hat is embellished with pins from Season 1.
Posted by

andalone
at 3:40 PM
No comments:


I have a small 5-frame snippet of film cell from the Channel 4 LOST promo done in the UK, directed by David La Chapelle. (I held it up in front of lampshade for close-up.) It is displayed in a magnetic-style acrylic frame.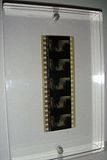 A full-length version of the video is on The LOST Season 2 DVD set. A short version can be seen below.
Posted by

andalone
at 3:21 PM
No comments: