Another of the new fall shows that I am
eagerly anticipating is "Once Upon a Time".
The executive producers/writers/shows runners
are Adam Horowitz and Edward Kitsis of LOST.
And yet another LOST connection: Lana Parilla co-stars.
She portrayed one of "The Others" - Greta.
Bonnie and Greta occupied The Looking Glass Station.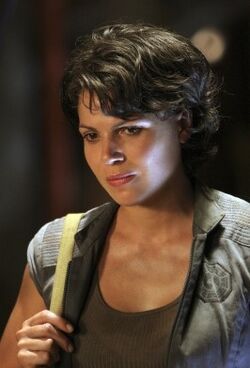 I am a sucker for fairy tales - Once Upon a Time
and Happily Ever After have been my secret mantras
for most of my life. I know the show will be amazing!
You can read more about it here:
I missed the panel for OUaT due to (awesome)
scheduling conflict previously mentioned.
I did watch it online and am even more
excited for the OUaT premiere.
I managed to score some Once Upon a Time swag
at Comic-Con though. My friend Scoutpost gave
me a OUaT mirror.
It's a very nice little compact that lights up
when opened.
It did NOT however, tell me that I am
the fairest one of all.
(must be defective)